DEC8
LED birthday cake candles
Unfortunately there is no translation of this text in english language. Please use web translator or simply click on this link: translate me!
Naišao sam na ovaj zanimljivi sklop koji simulira rođendanske svijeće. Sastoji se od 20 raznobojnih visokoefikasnih LED-ova, AVR ATTiny45 mikrokontrolera, par otpornika i termistora. Nakon uključenja ovog svijećnjaka na izvor napajanja, LED-ice nasumično titraju simulirajući gorenje prave svijeće. Dovođenjem iliti puhanjem hladnog zraka na termistor, on će se hladiti a mikrokontroler registruje promjenu temperature i time isključuje dio LED-ica.
Naravno, kao i kod pravih svijeća, potrebno je potruditi se da se sve isključe. Stoga treba biti uporan sa puhanjem da bi ih konačno sve isključili.
Termistor je prislonjen uz otpornik od 47 ohm-a da bi se održavao na konstantnoj temperaturi, što je poprilično neefikasno izvedeno. Možda bi bilo bolje detektovati strujanje vazduha uz pomoć piezo kristala ali to bi značilo: više hardvera.
Ono što je stvarno zanimljivo u vezi ovog sklopa je korištenje Charlieplexing-a za multipleksiranje LE dioda na mikrokontroleru. Uz samo 5 iskorištenih pinova moguće je pokretati 20 LE dioda.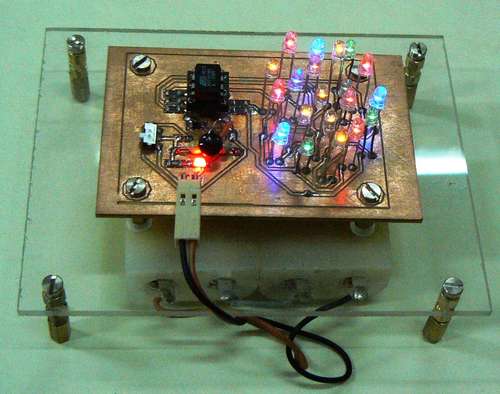 © cedtlab
[ Source: cedtlab ]


add comment
Please log-in!
You can log-in on forum link: Login page. After logging-in, return to this page and click refresh in your browser.