Microchip programmer in 8, 18, 28 i 40-pin packaging including eeprom series 24cXX.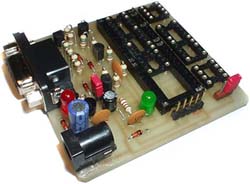 Author (sent by): D. Danijel
Rating:



(2.95, votes 13361)
Date: 21-03-2004
Lokalna verzija ove stranice: AllPic programator
comment [60]
From Samed on 03-09-2014 at 14:54:13
Napon na izlazu rs232 na svim pinovima mi negativan..postoji li nacin da se to promjeni..
IP: 31.176.218.199
comment [59]
ODLICAN PROGRAMATOR SVAKA CAST NA AUTORU
IP: n/a
comment [58]
From CeP on 20-08-2010 at 19:57:13
Više o ovoj pločici na ovoj stranici :) http://www.elektronika.rs.ba/data/projekti/programatori/allpic/
IP: 93.139.14.241
comment [57]
From mrmrva on 10-08-2010 at 10:24:12
Interesuje me mogu li se programirati eepromi serije 24LCxx ovim programatorom?
IP: n/a
comment [56]
From sedin on 27-07-2010 at 21:48:04
napravio sam ovaj programator i prepoznaju ga WinPic800 i Pony, sada mi treba pomoc da isprogramiram 24c04, pomenuti eeprom je iz perilice za sudje, ono sto me zanima jeli dovoljno samo povezati 24c02 preko AllPic na PC i ono sto se nalazi u programu za I2C 24c04 pustiti da prebaci na isti ili je potrebno upisati neki binarni (hex) kod za odredjeni uredjaj u koji se ugradjuje eeprom?
IP: 217.199.136.150
comment [55]
From vojkann on 24-07-2010 at 21:41:46
mislim da sam uspeo da ga izprogramiram!!! potrebna verzija za pic 16F877A je icprog105A
IP: n/a
comment [54]
From vojkann on 24-07-2010 at 17:47:42
da li je ikom ovaj programator proradio???
IP: n/a
comment [53]
From vojkann on 22-07-2010 at 16:26:56
u pitanju je 16f877a ima li to nekakve veze???
IP: n/a
comment [52]
From vojkann on 22-07-2010 at 16:13:54
da li neko zna kako podesiti winpic800 ili ic-prog nikako nece da izprogramira stalno na kraju izbacuje gresku
IP: n/a
comment [51]
From Andrija on 24-06-2010 at 21:22:04
Reci mi kako da konfigurisem winpic800 , mozda s njim uspem?
IP: 109.93.231.160
add comment
Please log-in!
You can log-in on forum link: Login page. After logging-in, return to this page and click refresh in your browser.