JAN29
Digital light dimmer
Our forum user niho has just finished his light dimmer for DC current. He describes his project:
"The light level can be adjusted with two push-buttons "Up" and "Down". Controller in this application is PIC16F84 that drives BUZ11 mosfet. Dimmer is tested with a light bulb 12V/4W and mosftet didn't get even warm (which was expected since the datasheet says: 50V/30A). There is a small 5V voltage regulator on board LM78M05 (0,5 A) for the PIC microcontroller. Light level can be adjusted to 10 steps (0-9) and upon startup it is automatically adjusted to level 5. Current light level is displayed on 7-segment LED display with common anode. PCB was designed in Proteus and firmware is written in PBP."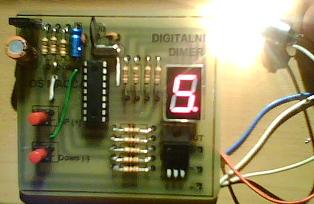 © niho
[ Source: schematics: niho @ forum ]


comment [7]
From niho on 07-01-2012 at 09:38:14
Evo postavio sam link ponovo u zipu se nalaze sema, hex kod i nacrt PCB-a u protelu ako treba jos nesto budem lako dodao: [url=http://www.hugedrive.com/published/WG/show.php?q=TklITw==-cd2a7836] Link je[/url] @milos123 MCU zahtijeva stabilan napon za stabilan rad a na izlaz mozes staviti i bipolarni tranzistor samo preracunaj onaj otpornik od 1k prema gejtu (bazi) da struja ne premasi 20mA koliko je dozvoljeno opterecenje pina MCU-a.
IP: n/a
comment [6]
From Snowy on 06-12-2011 at 17:12:32
You have more uesful info than the British had colonies pre-WWII.
IP: 82.134.78.42
comment [5]
Proekat je odlican i dobro uradjen svaka cast. Zanima me da li mogu koristiti umjesto stabilizatora sa 12V na 5V potencinometar pa da snizim napon na 5V za potrebe pica posto nisam nasao fet.
IP: 94.250.45.178
comment [4]
Da li možeš da postaviš sliku šeme,pošto ovaj link ne radi na kome si postavio!
IP: n/a
comment [3]
From niho on 31-01-2010 at 14:28:30
@vfdisplay, peglom kao i sve ostalo samo sto ovdje moras stampati kao ogledalo i nije ispisano samo dimer nego kompletan raspored i vrijednosti elemenata. A ledice sam "dimao" na probnoj plocici prije nego sam uradio krajnji PCB kakav se vidi u projektu.
IP: n/a
comment [2]
zanima me kako si ispisao ona slova na plocicu? (ono "digitalni dimer")
IP: n/a
comment [1]
From trax on 29-01-2010 at 10:35:48
Ovo moze da dimma i LEDs...
IP: n/a
add comment
Please log-in!
You can log-in on forum link: Login page. After logging-in, return to this page and click refresh in your browser.