DEC15
Light from a graphite
Unfortunately there is no translation of this text in english language. Please use web translator or simply click on this link: translate me!
Veoma bitno je napomenuti da za ovaj projekt se ne smiju koristiti alkalne baterije kao ni punjive baterije jer one imaju tendenciju da eksplodiraju prilikom kratkog spajanja.
Ovdje se radi o kratkom spoju izvora napajanja preko grafitnog štapića. Grafitni štapić koji se može koristiti je od patent olovaka (patentuša) a trebalo bi da je moguće koristiti grafitni štap iz obične HB olovke. Temperatura koja se razvija na grafitnom štapiću je oko 300 stepeni Celzijusa. Iznos napona napajanja treba utvrditi eksperimentalno ali se kreće od 9V pa na više.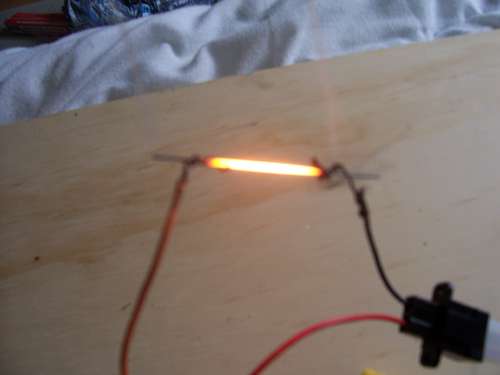 © oni
[ Source: oni ]


comment [1]
From trax on 18-12-2008 at 06:55:19
Evo još jedan interesantan link: http://electronics.howstuffworks.com/cold-heat.htm
IP: n/a
add comment
Please log-in!
You can log-in on forum link: Login page. After logging-in, return to this page and click refresh in your browser.