DEC10
Liquid level measurement (in a glass)
Unfortunately there is no translation of this text in english language. Please use web translator or simply click on this link: translate me!
Mjerenje nivoa tečnosti u čaši je realizovano korištenjem specijalnih čaša sa malom staklenom ili plastičnom prizmom u dnu. Sa takvom konfiguracijom, kada uperimo laser ili IR svjetlost u prizmu dok je vrh prizme uronjen u tečnost, svjetlost se neće reflektirati nazad kroz prizmu. Ukoliko je vrh prizme izvan tečnosti, svjetlost se reflektira nazad. Za mjerenje i detekciju je korišten Microsoft Sufrace.
Moguće je napraviti i veoma jeftinu verziju ovog stola korištenjem IR prijemnika i predajnika. Možda bi pametnije bilo integrirati tu sitnu mjernu elektroniku u podmetače za čaše. Pa zašto nebi ubacili u njega i RF predajnik da javimo konobaru da smo skoro popili piće? To bi već bilo nešto!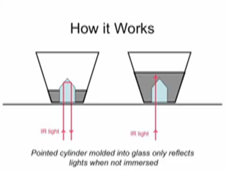 [ Source: YouTube ]


add comment
Please log-in!
You can log-in on forum link: Login page. After logging-in, return to this page and click refresh in your browser.