DEC5
Joule thief lamp
Unfortunately there is no translation of this text in english language. Please use web translator or simply click on this link: translate me!
Do sada smo svi vjerovatno već napravili svoj Joule thief. Za one koji nisu, to je step-up konverter koji crpi energiju iz prazne 1,5V baterije. Baterija naravno nije totalno prazna ali je neupotrebljiva za ostale normalne potrošače koji zahtjevaju bateriju od 1,5V. Ono što je interesantno, je to da ovaj sklop neće uvijek raditi kada mu se spoji puna (nova) baterija. Ovo se desi ukoliko namotate transformator čija jezgra odmah ode u zasićenje. LED sa ovim sklopom može na praznoj bateriji da radi konstantno nekih 10-tak dana! Nakon toga LED počinje da blinka narednih 10-tak dana dok se baterija ne iscrpi totalno.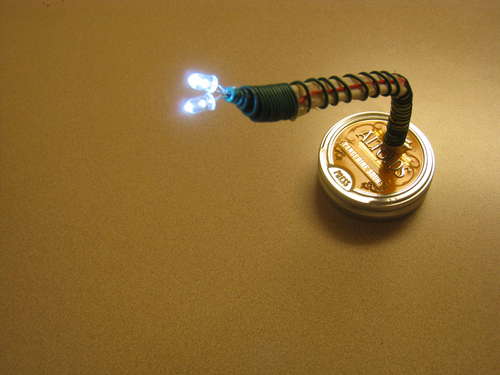 © zjharva
[ Source: zjharva ]


add comment
Please log-in!
You can log-in on forum link: Login page. After logging-in, return to this page and click refresh in your browser.