/Schematics/Optics/Powerful light show (3 x 600W)
Quote: "This is very good light show. Only the problem is where to get 600W light bulbs. It is not very different than other light show circuits. Two transistors form a microphone amplifier that is later on filtered. It is powered from mains line and the power is rectified through diode D1 and filtered on capacitor C3.
Thyristors require coolers!"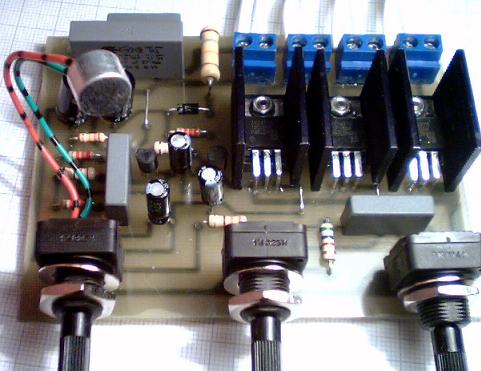 © sindja1204
[ Source: Kikin ]


Author (sent by): Kikin
Rating:



(2.94, votes 4360)
Date: 29-01-2006
Lokalna verzija ove stranice: Snažni light show (3 x 600W)
463_snanilightshow3x600w.zip
comment [1]
From Alen on 22-01-2007 at 12:55:17
kako znas da ova shema radi ? IP: 195.222.50.134
IP: 195.222.50.134
add comment
Please log-in!
You can log-in on forum link: Login page. After logging-in, return to this page and click refresh in your browser.