This circuit was designed to detect when a call is incoming in a cellular phone (even when the calling tone of the device is switched-off) by means of a flashing LED.
The device must be placed a few centimeters from the cellular phone, so its sensor coil L1 can detect the field emitted by the phone receiver during an incoming call.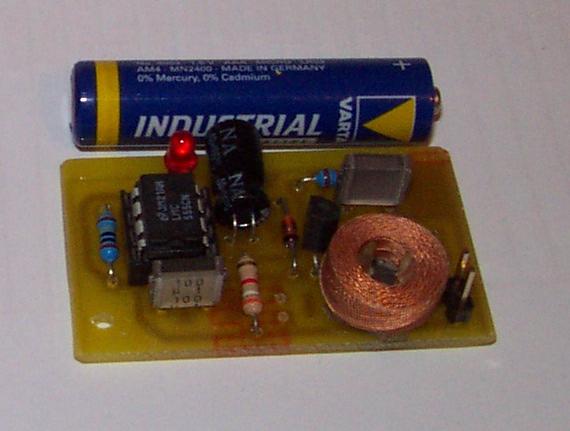 Part list
R1____________100K 1/4W Resistor
R2______________3K9 1/4W Resistor
R3______________1M 1/4W Resistor
C1,C2_________100nF 63V Polyester Capacitors
C3____________220µF 25V Electrolytic Capacitor
D1______________LED Red 10mm. Ultra-bright (see Notes)
D2___________1N5819 40V 1A Schottky-barrier Diode (see Notes)
Q1____________BC547 45V 100mA NPN Transistor
IC1____________7555 or TS555CN CMos Timer IC
L1_____________Sensor coil (see Notes)
B1_____________1.5V Battery (AA or AAA)
Author (sent by): Red circuits
Rating:



(2.90, votes 2436)
Date: 26-03-2007
Lokalna verzija ove stranice: Detekcija emitovanja mobitela
202_detekcijaemitovanjamobitela.zip
comment [16]
Ovaj sklop ce tesko raditi, jer za napajanje NE555 treba min 4.5V
IP: 37.19.108.12
comment [15]
Kako cu napraviti senzorsku zavojnicu?
IP: n/a
comment [14]
a sad vidim:) IP: 213.133.11.215
IP: 213.133.11.215
comment [13]
kolike su vrijednosti ovih djelova? IP: 213.133.11.215
IP: 213.133.11.215
comment [12]
From Branko on 14-03-2008 at 19:07:45
Na izlazu je udvostrucivac napona (kondenzator i dioda), zato moze da radi na 1,5 V. IP: 213.198.202.228
IP: 213.198.202.228
comment [11]
sorry, sada vidim da moba biti par cm. Ako je to to, ovo se moze kupiti za 3 km gotovo. Manje je od klikera, privjesak za mobitel koji svjetluca kada mob zazvoni. Meni treba nesto sto bi radilo na 4-5 metara (unutar prostorije). Je'l moze?? IP: 80.71.146
IP: 80.71.146
comment [10]
Samo da kupim dijelove i bacam se na posao. Zanima me na koju ovo daljinu detektuje signal? IP: 80.71.146.42
IP: 80.71.146.42
comment [9]
From Petar on 04-05-2007 at 16:44:38
javi ako radi :)
IP:
comment [8]
pa ovo sam cekao! Ljudi, ovo trazim duze vrijeme. Odlicno. nisam jos probao ali se bacam na posao. IP: 89.146.131.26
IP: 89.146.131.26
comment [7]
From Petar on 27-04-2007 at 16:15:28
hm.. da.. zeznuo sam se.. ona sto trosi 20mA struje radi na 2 volta
IP:
add comment
Please log-in!
You can log-in on forum link: Login page. After logging-in, return to this page and click refresh in your browser.