APR2
CC1101 RF modem + 250mW amplifier published
Here is my home-built, cloth iron soldered, range extender for CC1101 (included onboard) RF transceiver chip from Texas Instruments. You could say that it is a CC1101+CC2591, but for 868/920MHz band. I used MAX2233 RF amplifier from Maxim-IC. It can deliver up to +24dBm (250mW) of RF amplification with +10dBm of input.
After adding RF amplifier, original power of 10mW is boosted to almost 250mW or 1/4W. MAX2233 RF amp can deliver up to 250mW when powered by 3.6V, and since I used 3.3V LDO on my board, the output RF power is little less than that.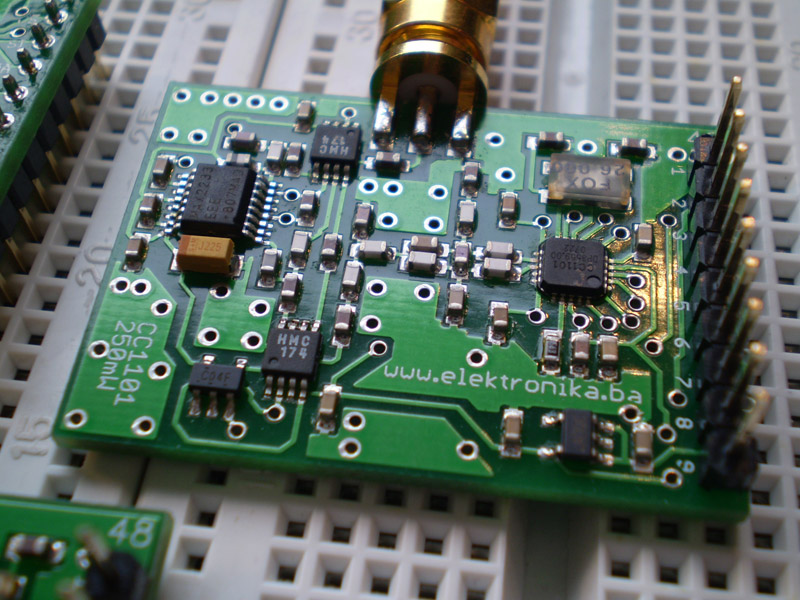 [ Source: ]


comment [4]
From trax on 06-04-2009 at 13:27:40
Ne moze :-)
IP: n/a
comment [3]
Jel ovo pojacalo moze ista pomoci wireless anteni 2.4 Ghz
IP: n/a
comment [2]
From trax on 03-04-2009 at 00:12:18
Mozes ga sebi napraviti, za sad :) Koliko bi ga platio inace?
IP: n/a
comment [1]
From lukand on 02-04-2009 at 19:55:50
gdje se može nabaviti ovaj modul i po koliko otprilike
IP: n/a
add comment
Please log-in!
You can log-in on forum link: Login page. After logging-in, return to this page and click refresh in your browser.