/Schematics/Bugs/Extra mini FM spy bug on 1.5V
Quote: "You should try this bug. It really works great. The range I got was 150m."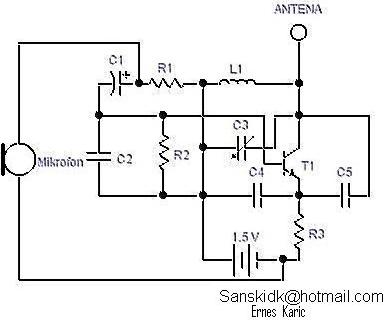 Part list is available for download at the "download" link below.
Author (sent by): SaNsKi_Dk
Rating:



(2.94, votes 6396)
Date: 29-01-2006
Lokalna verzija ove stranice: Extra mini FM špijun na 1,5V
284_extraminifmpijunna15v.zip
comment [61]
From Booraz on 24-09-2006 at 08:15:00
Koja je razlika izmeðu C1 i ostalih kondenzatora?
IP:
comment [60]
From venelin on 22-09-2006 at 15:26:52
Ko je napravio plocicu neka mi posalje na pmetro@net.hr Hitno
IP:
comment [59]
From jumba on 21-09-2006 at 15:45:50
Ljudi sta mogu da stavim umesto mikrofona,da daje pulsirajuci napon koji skida sa baterije od 1.5V.Ne treba mi za prisluskivanje vec za model aviona da bih ga mogao naci kada se izgubi.Ovo je ozbiljna stvar i neka mi neko u skorasnje vreme odgovori POZZZZ
IP:
comment [58]
From Nitro on 03-08-2006 at 06:12:16
Ja sam (takodjer) koristio BF240 i nikako da proradi :(
IP:
comment [57]
From Eki on 22-07-2006 at 10:47:44
Eh ova mi dosad radi najbolje, idem da pravim sad neku sa dva tranzistora, jedino sto mi se ova dosta svidja sto je jako mala i dobra...
IP:
comment [56]
From sdk on 08-05-2006 at 08:52:34
mislim da moze samo sto moras puno smanjiti... da ne bude preglasno, onda ce samo da bruji ako previse pojacas, i ton ce biti uzas....
IP:
comment [55]
From ajoj on 07-05-2006 at 06:29:15
e a jel se moze umjesto mikrofona stavit izlaz za zvuènike iz kompa jel mislim da mi mic neradi
IP:
comment [54]
From sdk on 07-05-2006 at 04:56:20
stavi npr. na 90mhz i trazi na trimeru, mnogi okrenu bateriju naopako, pa i to provjeri, poz...
IP:
comment [53]
From ajoj on 06-05-2006 at 09:07:11
poz ljudi napravio sam bubu al e nikako nemogu uhvatiti na radiju na kojoj frekvenciji radi?
IP:
comment [52]
Ma sta se ti slazes, ja sam se samo salio hehehe moze ova i preko 150m
IP:
add comment
Please log-in!
You can log-in on forum link: Login page. After logging-in, return to this page and click refresh in your browser.