/Schematics/Optics/Powerful light show (3 x 600W)
Quote: "This is very good light show. Only the problem is where to get 600W light bulbs. It is not very different than other light show circuits. Two transistors form a microphone amplifier that is later on filtered. It is powered from mains line and the power is rectified through diode D1 and filtered on capacitor C3.
Thyristors require coolers!"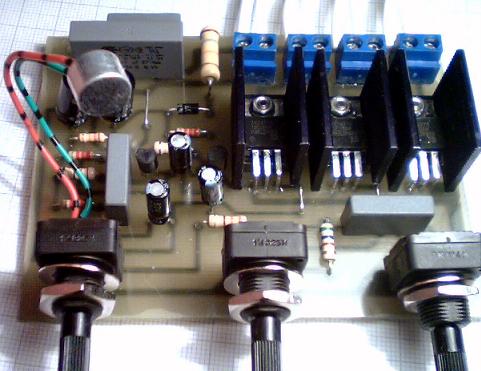 © sindja1204
[ Source: Kikin ]


Author (sent by): Kikin
Rate:

(2.96, votes 3714)
Date: 29-01-2006
Lokalna verzija ove stranice: Snažni light show (3 x 600W)
463_snanilightshow3x600w.zip
comment [21]
interesuje me da li moze da radi ako se napravi bez zavojnice?
IP: 79.101.152.206
comment [20]
jeli mozete staviti montažnu shemu
IP: 109.60.0.186
comment [19]
Umesto zavojnice stavljen je kratkospojnik.
IP: n/a
comment [18]
From laki on 09-03-2011 at 19:29:44
jel moze pomoc oko zavojnice nepise ni koja zica ni nista a i kako na fotki gode nema zavojnica
IP: 188.246.54.241
comment [17]
From trax on 18-08-2010 at 08:00:46
Probaj staviti umjesto njega MPSA42 pa vidi kako radi.
IP: n/a
comment [16]
From pupi on 17-08-2010 at 21:50:45
pozdrav ! napravio sam light show po shemi i super radi, samo sto mi zna izgorit sam od sebe tranzistor Q1, al ne u radu vec dok ga startam, to mi se 3 puta desilo vec ... zasto bi on pregarao ??
IP: 93.139.79.64
comment [15]
Nemoras nista da preradjujes. Imas u gotovim projektima jednokanalni light show po ovoj istoj shemi http://www.elektronika.ba/forum/viewtopic.php?f=9&t=6590
IP: n/a
comment [14]
moze li neko da mi pomogne oko prerade ove sheme? hocu da imam samo jedan kanal i da se aktivira samo na niskim frekfencijama... inace pocetnik sam u ovome pa ne razume seme bas najbolje
IP: n/a
comment [12]
Nadji neki balans za sve kanale potenciometrima.
IP: n/a
add comment