/Schematics/Bugs/Extra mini FM spy bug on 1.5V
Quote: "You should try this bug. It really works great. The range I got was 150m."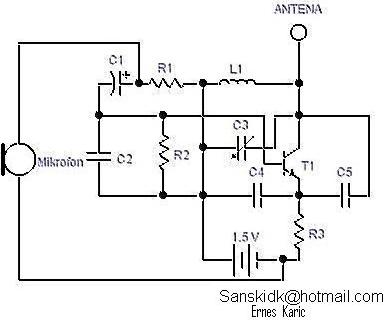 Part list is available for download at the "download" link below.
Author (sent by): SaNsKi_Dk
Rating:



(2.95, votes 6770)
Date: 29-01-2006
Lokalna verzija ove stranice: Extra mini FM špijun na 1,5V
284_extraminifmpijunna15v.zip
comment [201]
From frwgrg on 09-06-2010 at 21:21:29
dajte bre, ko da pravite avion. jednostavna shema, sa desetak elemenata, cak nemorate koristiti ni lemilicu, ni plocicu.
IP: n/a
comment [200]
From nikola on 22-01-2010 at 20:04:15
moze li netko poslati slike gotovog projekta na tk.nike@gmail.com
IP: 212.92.194.84
comment [199]
pa za nacrt plocice mozes koristiti neki od veoma jednostavnih programa tipa Eagle.
IP: 161.53.179.227
comment [198]
pozdrav svima, mogu li i ja dobiti shemui slike, ako je netko uspio napraviti...hvala puno :)) evo mail : ninkovich@hotmail.com
IP: 78.3.246.134
comment [197]
From trax on 09-03-2009 at 10:16:12
Pogledaj slike nekih drugig bubica (fm predajnika) na google, sve ovog tipa su 90\% iste. Zavojnica ti je komad zice namotan na borer precnika koji ti pise na shemi. Vrlo jednostavno!
IP: n/a
comment [196]
pardon,tipkovnica mi je stara pa ne slusa:D mislio sam reci dali biste mi mogli poslati shemu i slike vec napravljene bube na prethodno navedeni mail( fatamujo@hotmail.com), te da me upozorite na moguce teskoce osobito ako mi mozete detaljnije pokazati kako napraviti ovu zavojnicu! Hvala
IP: n/a
comment [195]
pozdraav meni takoder treba nacrt plocice. pa ako neko ima bio bimu vrlo zahvalan. female.body.inspektor@hotmail.com
IP: n/a
comment [194]
From aca on 17-11-2008 at 14:16:18
buba radi sa bf 240.frekvencija mi se menja upadaju mi radio stanice ali jos nisam podesio da daje najaci signal IP: 194.106.174.234
IP: 194.106.174.234
comment [193]
From aca on 15-09-2008 at 13:00:50
neka neko stavi semu ovde onu za peglanje i resena stvar koliko vidim svi mole za semu.ja sam pravio bubu sa bf240 i nije proradila ali mnogo toga nisam siguran da je bilo ispravno IP: 194.106.174.234
IP: 194.106.174.234
comment [192]
Hej de možel mi ko poslat nacrt na ploèici i kako to sve izgleda....De ba ako može iko što prije...PLEASE:::Na:andreica.j@windowslive.com IP: 85.92.230.42
IP: 85.92.230.42
add comment
Please log-in!
You can log-in on forum link: Login page. After logging-in, return to this page and click refresh in your browser.