Good device for locating transmitters. It can be tuned down to a few MHz.
It can also be used as GSM RF tracker, to pinpoint a hidden GSM phone or a modem.
Design by B. Kainka, Elektor Electronics 5/2002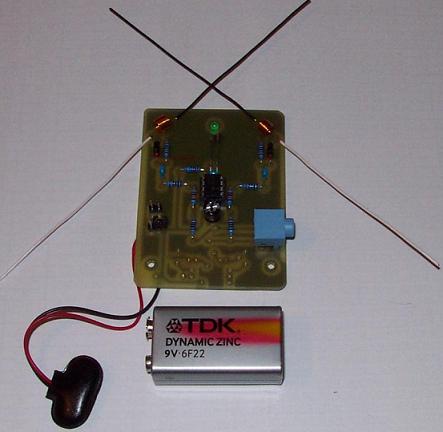 [ Source: Elektor ]


Author (sent by): Elektor
Rating:



(2.92, votes 6038)
Date: 09-04-2004
Lokalna verzija ove stranice: GSM snifer
comment [29]
From nik on 24-05-2006 at 13:35:37
ovo je cool
IP:
comment [28]
From eso on 22-04-2006 at 03:47:37
MA dajte ljudi kažite mi gdje mogu nabaviti ili naruèiti LM3876!!!!
IP:
comment [27]
From Zlaja on 11-04-2006 at 12:59:46
Napravio sam snifaè i smeæe NE radi.
IP:
comment [26]
From Malik on 12-03-2006 at 06:17:59
I da li je itko uspio napraviti ovaj ureðaj i jeste li zadovoljni??
IP:
comment [25]
From gorio on 25-12-2005 at 08:30:55
Bili mi ko poslao stampanu plocicu (PCB), neznam sam da je napravim!? Pozdrav!
IP:
comment [24]
From orbi on 06-12-2005 at 17:33:02
Ovo jevezano za bilo koji od ovih uredja,interesuje me dali neko ima semu instrumenta za mjerenje kapaciteta do nekih 1000 mikro farada
IP:
comment [23]
From armin on 16-10-2005 at 04:29:50
zna li ko napraviti ometac radara za mjerenje brzine.cao
IP:
comment [22]
Daj ljudi nemojte se blamirat.LM358 je 2x NF OP IC a to veze nema sa GSM bandom a tek sa GSM 2 (PCN).pravi ureðaj je mašina a ovo je detektor VF emisije skoro za svaki VF TX ureðaj.Pozdrav
IP:
comment [21]
From IGIS on 23-08-2005 at 17:43:45
Zdravo. Ja sam radijo taj isti urežaj prije godinu dana, pa mi nije radilo. Imao sam ukljuèen 2 dana nomstop pa nije ništa ama baš ništa našlo. Posle sam zamenjio i diode i opet nita, ko mrtvo, samo mi je zelena led dioda svjetlila.
IP:
comment [20]
From pero on 12-07-2005 at 14:56:43
zna li ko napravit ometac tv signala.
IP:
add comment
Please log-in!
You can log-in on forum link: Login page. After logging-in, return to this page and click refresh in your browser.