JAN8
Mobile bar - BaR2D2
Jamie has sent us his newest creation and quite a creation it is! It's a remote controlled bar called "BaR2D2" with all corresponding bar-features. It was constructed in his garage and it took him 5 long months. The mechanics are quite impressive and regarding the electronics - it is all off-the-shelf, so no custom electronics had to be developed. It is powered from a 12V/35A sealed lead-acid battery.
You really need to check out the video to see this bartender in action and all of it's features.
"BaR2D2 is a radio-controlled, mobile bar that features a motorized beer elevator, motorized ice/mixer drawer, six-bottle shot dispenser, and sound activated neon lighting. The robot is driveable so you can take the party on the road!"
Be sure to check his instructable to see the full how-to with tons of pictures.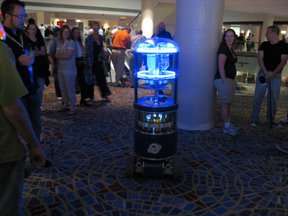 © jamiep
[ Source: jamiep ]


comment [1]
From trax on 08-01-2009 at 14:11:38
OMG :)
IP: n/a
add comment